So the club is very lucky to have two cyclocross leagues in close vicinity so there are plenty of races to choose from as we move into the CX season starting in September.  There is the North Wales CX league which is very friendly and perfect for those who've never done cross before.  More info can be found here: http://www.cyclocross.cymru/
You can turn up and pay on the day in the novice race but if you want to race in the main adults race then you have to sign on in advance.
There is also the North West CX league and this league requires you to get a race licence (or you can purchase day licences) and for those who don't like an 'all categories mass start', they do different races for different categories (veteran men are separate to seniors and there's a women's race which is set off together)  They also run some novice races for beginners but this depends on each race organiser.  More details found here: https://nwcca.org.uk/
Cyclocross is very accessible and the atmosphere is great with separate children's and adult's races meaning often whole families take part and its a full day out.  You can take part on a mountain bike or cyclocross/gravel bike.
So what are you waiting for….races are most weekends between September and February so come along and join in some muddy fun! ??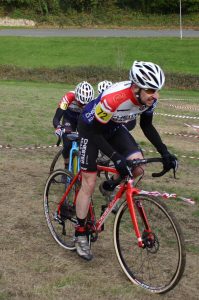 Lets get kids riding
Helping young people enjoy the freedom of cycling and develop lifelong skills